SFS Portfolios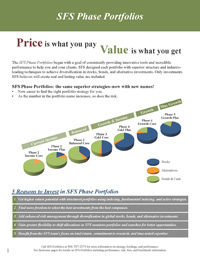 SFS Phase Portfolios:These began with a goal of consistently providing innovative tools and incredible performance to help you and your clients. SFS designed each portfolio with superior structure and industry-leading techniques to achieve diversification in stocks, bonds, and alternative investments. Only investments SFS believes will create real and lasting value are included.
Learn more >
|
View the Full Brochure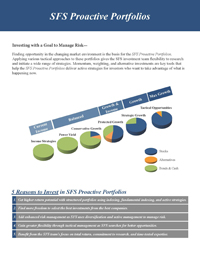 SFS Proactive Portfolios:Finding opportunity in the changing market environment is the basis for the SFS Proactive Portfolios. Applying various tactical approaches to these portfolios gives the SFS investment team flexibility to research and initiate a wide range of strategies. Momentum, weighting, and alternative investments are key tools that help the SFS Proactive Portfolios deliver active strategies for investors who want to take advantage of what is happening now.
Learn more >
|
View the Full Brochure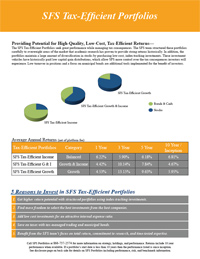 SFS Tax-Efficient Portfolios:These seek great performance while managing tax consequences. The SFS team structured these portfolios carefully to overweight areas of the market that academic research has proven to provide strong returns historically. In addition, the portfolios maintain a large amount of diversification in stocks by purchasing low-cost, index-tracking investments. These investment vehicles have historically paid low capital-gain distributions, which allow SFS more control over the tax consequences investors will experience. Low turnover in positions and a focus on municipal bonds are additional tools implemented for the benefit of investors.
Learn more >
|
View the Full Brochure